Wellness Examinations

for Horses in South FL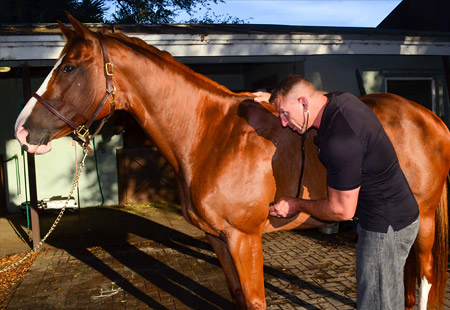 Horses can be expensive to own and maintain. Protect your investment and your horse's health and performance ability with annual or semi-annual comprehensive performance examinations including basic equine wellness care.
Comprehensive Horse Wellness Care
Our equine wellness programs are designed to provide you with the confidence that your horse is receiving the highest-quality preventive health care and for a happy, healthy life. We recommend semi-annual preventive care appointments, which include a physical examination, vaccinations, and dental evaluation. Targeted deworming protocols and fecal testing will be customized for each patient. Our equine veterinarians view semi-annual examinations as an opportunity to establish a baseline for your horse's health and detect problems before they become serious and expensive to treat.
The equine wellness check-up at Scott Equine Services includes:
Examination of the eyes, mouth, teeth, lymph nodes, skin, heart, lungs, abdomen, limbs and genitals.
Evaluation of your horse's major organ systems
Some cases require annual blood analysis including complete blood counts, blood chemistry, and screening for other chronic conditions such as Equine Metabolic Syndrome and Pituitary Pars Intermedia Dysfunction (PPID aka Cushing's Disease).
Evaluation of your horse's body condition and nutrition and feeding recommendations
Review of your horse's exercise level and regular activities
Review of your equine parasite prevention program and updates on the latest standards of care
Targeted De-Worming Protocol
Dependent on environmental conditions, we recommend twice yearly fecal examinations. Deworming recommendations are made based on the quantity and type of parasite eggs detected. By targeting only those horses that need to be de-wormed, we can reduce de-worming frequency, and minimize parasite resistance.
Vaccine Protocols for Maximum Protection
South Florida is a wonderful place to live and enjoy horses. However, the tropical climate requires special consideration in your horse's vaccination needs.
Vaccinations are the number one way you can protect your horse from harmful infectious diseases. While there are many equine vaccines available, not every horse requires the same series or frequency of vaccines. At Scott Equine Services our veterinarians determine a vaccination protocol based on core vaccination guidelines from the American Association of Equine Practitioners, your horse's lifestyle, age, geographic location, and other risk factors affecting exposure to disease. Our goal is to maintain optimal health and protection while not over-vaccinating.
Core Equine Vaccines
West Nile Virus
Eastern and Western Equine Encephalitis (aka "sleeping sickness")
Tetanus
West Nile Virus
Rhinopneumonitis (Equine Herpes Virus)
Strangles (Streptococcus equi)
Rabies Virus
Please check with our veterinarians for the appropriate equine vaccinations that are the best and most cost-effective for your horse's needs. A program designed with the help and advice of our veterinarians will keep your horse happy and healthy for many years to come.