About
Scott Equine Services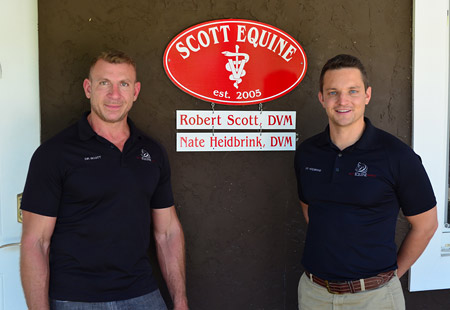 At Scott Equine Services, we're passionately dedicated to the health and welfare of horses. Whether you are a recreational rider with your horse at home or the owner of a performance horse, our veterinarians provide the highest-quality veterinary care.
The equine veterinary team at Scott Equine Services places a special emphasis on lameness and performance examinations. Thorough examinations that identify areas of discomfort and pain are the key to a correct diagnosis and ultimately the appropriate treatments. Identifying issues before they become major concerns is essential to your horse's long-term health and performance. We also provide complimentary equine veterinary healthcare, including chiropractic and acupuncture.
In addition to regular horse wellness care, the team at Scott Equine Services also provides equine dentistry; on-site imaging including digital radiographs, ultrasounds, and endoscopy; advanced treatments like shock wave therapy, stem cell therapy and platelet enriched plasma therapy; surgery; and much more. Our experience in lameness and performance examinations makes us a logical choice for pre-purchase examinations. Our expertise in lameness diagnosis, performance examinations, and advanced treatments is an essential part of enabling you to realize your goals with your equine partner.
Scott Equine Services was acquired by Dr. Robert Scott in 2005. Dr. Nathan Heidbrink joined the practice in 2010. Our practice is fully ambulatory, allowing our veterinarians to treat your horse in a comfortable, familiar environment. Our high-tech mobile equipment, along with our veterinarians' skills, helps ensure your horse receives the best care in the ideal setting.
Contact Us
We invite you to read on and learn about our mobile equine veterinary services and why we believe they are important. To learn more about our professional team, please look over our our veterinarians' and staff bios. If you have any questions or would like to schedule an appointment, please contact us at (954) 252-9744 today. We look forward to helping you keep your horse happy and healthy.
Hours of Operation
Monday – Friday: 9am – 5pm
Payment Policy
We accept cash, check, American Express, Visa, Mastercard, and Discover. Payment is due within 15 days of billing.